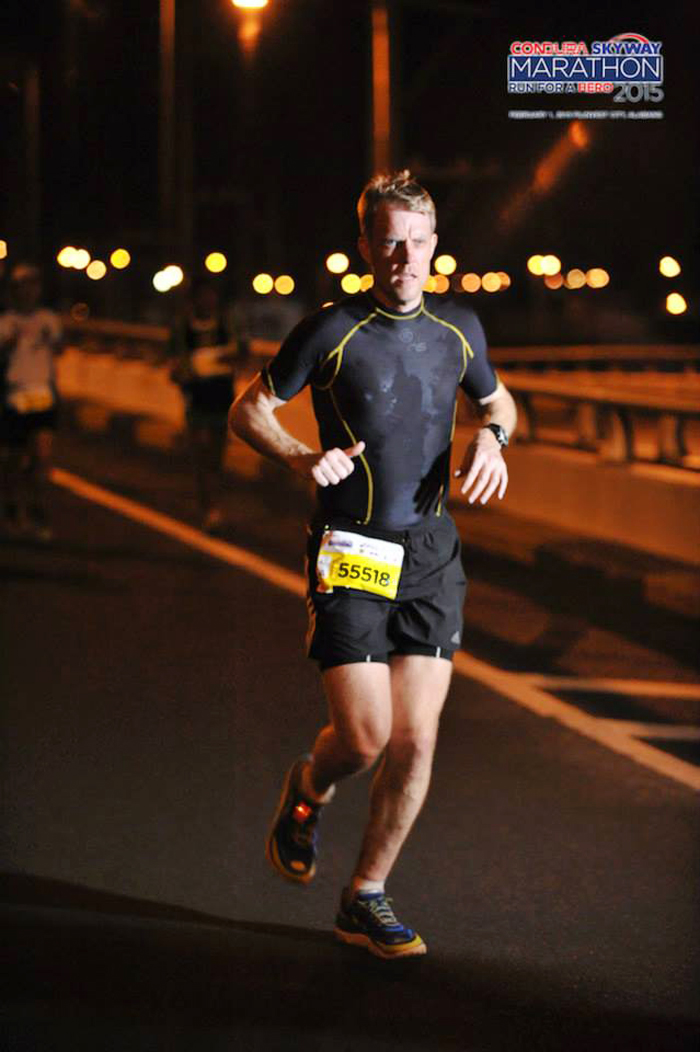 The 2015 Condura Skyway Marathon started out as a quest for me to run my first road marathon in over 11 years. My last road marathon before this event was the Sydney Marathon held in Sydney, Australia on the 14th of September, 2003 which I completed in a fairly respectable time of 03hrs 50min 07sec. Since this event I had a long period with no running at all, followed by three consecutive years of failed ultra marathon attempts (TNF100 in 2011, 2012 and 2013) which were all based on very limited training preparation. After these three abysmal failures, my running passion was reignited and I commenced a more serious training regimen in July of 2013. Since this time I have mainly competed in races of 50km and up to 220km and a few shorter events less than the marathon distance.
So when the opportunity for me to compete in the 2015 Condura Skyway Marathon came up I was somewhat excited and challenged at the same time. In the months leading up to the event I set myself four goals to aim for in this event and with which to focus my training efforts. Each goal was set so that it would be slightly harder to achieve than the earlier goal in my list. The goals I set were as follows.
To complete the marathon in less than four hours.
To set a new Personal Record (PR) in the marathon. My marathon PR prior to this event was 03hrs 50min 07sec set on 14th September, 2003 at the Sydney Marathon.
To finish in the top 1% of finishers.
To complete the race in less than 03hrs 30min.
Having not run a road marathon for over 10 years and considering I'm now 42 years of age, I had to be realistic in the goals that I targeted but at the same time allow each subsequent goal in my list to stretch me a little further than the previous goal. The final goal in my list I thought would be achievable but would be at the upper limit of my current capability considering my training and most recent running history.
So the scene was set. I had my goals in place and with about six weeks to D-Day (1st February 2015) I focused my efforts in training to achieving my targeted goals come race day. My style of training is based more around training on "feel" than on sticking to some hard and fast training plan. I find this works best for me and it can be flexible around my time commitments and also how I'm feeling on any particular day. I might decide to go out for a training run but before I start out I only have a vague idea of what type of training I will undertake. If, in the first 10 minutes I feel good, I might decide to slowly ramp up my speed over say a 10 km distance so that I finish faster than I start. If I don't feel so fantastic early on in my session I may decide on maintaining a steady pace throughout the session. If I'm feeling good I might decide to add some additional kilometres to the end of my run or put a few more hills along my route. If I'm not feeling so well I may also shorten my run. I also incorporate other activities into my training including riding a mountain bike to and from work, walking in my lunch break and adding some kettle bell workouts to my regime now and again.
The Condura Skyway Marathon has had a history of supporting a different advocacy each year. This year some proceeds of the event were to be donated to the HERO FOUNDATION whose noble vision is to provide secure and consistent educational support for children of soldiers from the Armed Forces of the Philippines (AFP) who made the supreme sacrifice of dying or being permanently incapacitated in the line of duty. On January 25, 2015, a week before the event, came the sad news that 44 Special Action Force (SAF) police had been killed in an operation against Muslim Terrorists in Mamasapano, Maguindanao. And so the Condura Skyway Marathon 2015 became a tribute to the young men of the Philippine National Police (PNP) who lost their lives in this operation. The first 200 meters of the marathon course was lined with SAF colleagues each holding a photo of one of the 44 departed souls. As the runners passed by they saluted their fallen heroes before continuing on with their race. May the souls of these brave young men rest in peace and their actions and sacrifices not be in vain.
Come race day I was feeling fairly confident that I had done enough in training without over training to be able to have a good chance at achieving my goals. In this event I was to compete as Francisco LAPIRA (bib number 55518). As I was to start the event in Wave A (at the front of the field), this gave me a great opportunity to mix with the elite runners and a number of celebrity runners who were also attending the event. I managed to swap a few words with Kim Atienza (the Philippines best known TV weather man) after he said the pre-race prayer. As the clock wound down to midnight I performed some last minute stretching and warmed up as best I could amongst the crowd of runners at the starting line. This event is purported to be the largest marathon event in the history of the Philippines with over 5,000 competitors in the 42.195km category and over 15,500 competitors across all categories. Starting at the front of the field would also give me the best chance to not be caught up in the large numbers of people who would follow from behind. Having experience running in larger events overseas with over 40,000 competitors I new I could waste a lot of energy weaving in and out of slower runners for the first stages of the race which is something I did not fancy.
At 10 seconds before midnight the countdown to the start began and in no time we were off and running through the tunnel over the road to the onramp leading to the Skyway. As the runners flowed past the line of 44 SAF police holding the photos of their fallen comrades we all saluted to pay our respects. As we paid our respects to these fallen heroes I wondered what their last thoughts might have been before their demise. From the news reports it appears that some were in contact via cell phone with family members whilst lying dying on the battlefield. A tragic end but perhaps they were able to share some last messages with their loved ones before they left this earth.
However I now needed to put these thoughts aside to focus my attention on what I had come here to do. As we filed past the end of the line of SAF police we hit a short but somewhat steep section of road to bring us up onto the Skyway proper. The starting pace was fairly frantic as it usually is at the beginning of a race but I just tried to control my pace and not to use up too much energy as there was still a long way to go. I new that in order to meet my most challenging finishing goal (a time of less than 3hrs 30min) I needed to reach the half way point at or before 1hr 40min in order for me to have the best chance of achieving that goal. In my only half marathon race to date from almost 19 years or so earlier (May of 1996), I completed that event in a little over 1hr 28min so I knew my legs had it in them but as to how much of a toll age had taken and whether my training was adequate, I was now about to find out.
The course itself starts at the entry to the Skyway in Alabang, adjacent to Festival Mall and Crimson Hotel. It then follows the Skyway all the way past the Sucat exit, SM Bicutan exit, past the airport and down towards the exit to Makati City. This is followed by a turn around at this point and we then head back towards the airport where we follow one of the off ramps, do another U-turn and run back up another on ramp in order to place ourselves on the opposite side of the Skyway. We head a short distance back toward Alabang and then make another U-turn and head back towards Makati City where we do a final U-turn and head all they way back to Alabang and the finishing line.
During the first stages of the race the runners very quickly fanned out along the course and after a short toilet break at the second aid station to relieve myself of my pre-race hydration I was able to pace fairly consistently with a small group of the faster runners most of the way to the first turn around point at Makati City. As aid stations were placed approximately every 2 to 2.5 kms apart and as I was informed that some aid stations would carry bananas I made a decision not to bring any hydration, food, cell phone or anything else besides my running gear so as I was able to concentrate my full attention on the task at hand and to reduce any unwanted weight which could slow me down. During the first 16 km of the race up until the first turn around the pace was fast (considering my most recent background running ultras) but not uncomfortably so. The course in this section had a rolling but steady downhill profile for the first 10 km at which point it flattened out somewhat before the first turn around. I made sure to take at least some water and / or some gatorade from each of the aid stations even though I was not feeling particularly thirsty at this point. Although the weather was somewhat cool with a slight breeze blowing I knew this could be deceptive considering the humidity in the air and thus dehydration could play a factor towards the later stages of the race if I failed to hydrate from early on in the race.
A few kilometres before reaching the first turn around I was met with the return of the leading runners (led by a young African runner). These guys were really moving but the leading runner had quite a large gap to the following runners and it seemed fairly inevitable (if he could maintain his pace) that his race was "in the bag" as they say. Now, as I reached the first turn around point (about 16 km into the race) I was feeling quite good. I knew I had gone out fairly fast in the first part of the race (I could feel that in slight burning sensation in my quadriceps) to give myself a good chance of meeting all my pre-race goals. So far I was fairly happy with my pace but was hoping to maintain it until the half way point of the marathon.
As I headed back to the airport I was met with a stream of runners who were following from behind. I made a mental note never to look back so far as I really wanted to run my own race, but with all the turn arounds it was now possible to know how close the following runners were. In a way it was good to have them "breathing down my neck" as this gave me further motivation to keep up the pace but in a way it was also kind of pressuring which was leading to me worrying more about whether the runners behind were making up ground rather than concentrating on my own race. Anyway, in a short period of time I was heading onto the off ramp going to the airport and then this was followed quickly by a smaller turn around leading back to a separate on ramp and a onto a small hill leading to the opposite side of the Skyway. As I was getting closer to the half way mark I was now more concerned about meeting my pre-race game plan of getting to the half marathon point in 1hr 40min or better. The next turn around marked the half way point of the marathon and I was a little disappointed that I had not hit my intended half way goal. My time was just shy of 1 hr 45 min at this point. However, despite being a little off my game plan I still thought there was a slight chance of bettering my most optimistic goal. However in case of my failure to meet that goal I still had my fall back goal to at least set a new personal record (PR) in the marathon.
So as I headed back towards Makati City it was at this stage that the aid stations were starting to offer bananas and I made it a point to eat a banana at each of the points where they were available, in addition to making sure I continued to hydrate with water and / or gatorade. I also used some of the water to cool my head as by now I new my sweat rate was quite substantial despite the cooler conditions. The route in this area of the course was fairly flat but I could feel that I was slowing a little which I new would not bade well for achieving my most optimistic goal of sub 3 hrs and 30 min. However, I pushed on, determined to finish the race in the fastest time I possibly could. I reached the final turn around point at Makati City and this marked the final 16 km push to the finish line. "This is where the race really starts", I thought to myself and "this is where I really need to dig deep".
Up until this point in the race I had fairly much maintained my position in the race besides a few runners overtaking me but with myself also overtaking a few other runners. Now on the final push to home my goal was to maintain my pace as much as possible and also to maintain my placing. As I came towards the final 10 km of the race the course turned into a steady rolling profile but uphill climb towards Alabang and the finish line. I could feel my pace slowing due to the steady climbing profile and my legs were also starting to really burn but I pushed that aside and focussed on maintaining consistency all the way to the finish. I started to pick up a few places on some of the runners ahead of me and some had even started to walk so this gave me some renewed confidence that I was doing quite well. I wanted to pick up the pace but by now my goal of sub 3 hrs 30 min seemed out of reach unless I could find a new pair of legs somewhere along the route. As I headed into the final few kilometres the course flattened out somewhat and I could see the lights of the Crimson Hotel in the distance which I knew was adjacent to the start / finish line and which gave me renewed energy in that the burning sensation in my legs was about to end soon. My focus now was to finish as hard as my fatigued legs would allow and hopefully set a new PR.
As I pushed through the first of the toll gates I now knew my PR target was achievable as long as I did not stop. In this section of the course I was starting to see the runners from the 21 km category who were heading in the opposite direction, down the Skyway in the first part of their race. How I wished I had a set of their fresh legs right now. But I digress. I diverted my attention back to the final stages of finishing what I had set out to achieve. I was now at the second set of toll gates and with a small downhill then uphill section to complete I would be crossing the finish line. With what energy and will power I had left I pushed my legs as fast as they would go so as to maximise my PR performance. As I summited the last rise and rounded the corner and headed to the finish line I new I had my new PR "in the bag". As I approached the finish line the clock read 3hrs 44min and something. Mission achieved!
I was able to achieve the first three of my four goals for this event so for that I'm very happy. Yet despite this there is still more to work on to improve on this performance in the future. I know with more specific training and effort that I can improve in subsequent attempts.
Final Result: 03 hours 44 minutes 18 seconds (placing 49 out of 5,022 finishers – top 0.98% of finishers)
Source: http://conduramarathon.com/wp-content/uploads/2014/08/42km-Condura-Skyway-Marathon-2015-Overall-Full-Marathon.pdf
Movescount: https://www.movescount.com/moves/move51815454
I plan to make this race a yearly pilgrimage. So for the 2016 edition of Condura Skyway Marathon I now boldly set my new goals as follows:
To complete the marathon in less than 03hrs 45min.
To set a new Personal Record (PR) in the marathon. Currently 03 hrs 44 min 18 sec.
To finish in the top 0.5% of finishers.
To complete the marathon in less than 03hrs 30min hours.
I'd like to thank all my fellow runners and friends who called out to me along the route. Unfortunately I was not able to know who most of you were due to the volume of runners.
So until the next edition of this event…
KEEP ON RUNNING.